Yesterday, Prachi and I went to go watch Mockingjay Pt.1 and let me just tell you that it was amazing. I'll do 2 paragraphs. 1 with no spoilers and 1 with spoilers. Hope you enjoy!
So,the movie was amazing but if you haven't watched any of the previous movies or read the books you won't get whats happening.I felt that the director, Francis Lawrence, did a great job with the scenes and gave us a better view of what was going on. In the book, Suzanne Collins gives us a lot of detail and Francis did a great job showing all that. After all, these places play a huge job in Katniss' actions later on in the rebellion. This movie wasn't very violent but had a pretty gory theme. It would have easily scared a younger child with all the death. Also, the child won't get whats happening since this movie had more of a deeper meaning. The acting was done well. You could see the characters in the actors and you believed them. I felt that the casting job was done wonderfully. My favourite part of the movie was probably when Jen sang The Hanging Tree and I have been listening to that on replay since last night and memorized it. Now for some spoilers.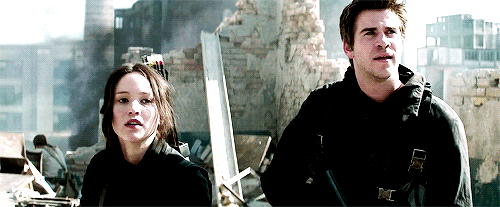 SPOILERS AHEAD! DO NOT READ IF YOU HAVEN'T READ BOOKS OR WATCHED THE MOVIE!
I felt Josh did a wonderful job playing hijacked Peeta and it really mad us sad for Katniss. Also, you see her feelings develop for Peeta but you can see she's stuck with something with Gale that she can't figure out.It seems that Gale stops looking at her in a loving way so that was something. I loved how Effie and Haymitch supported her since they were the only people who knew her as she actually is. Also, you see her breaking down after the games after seeing Peeta in the capitals promos and how that kinda weakens her but also makes her a bit stronger. The part that got me was when Peeta tried to kill her and you could see how hard is was for her. Another heartbreaking Peeta movie was when she had a nightmare and she called Peeta in her dream and her comforted her but then she woke up alone.
Now, for some pictures!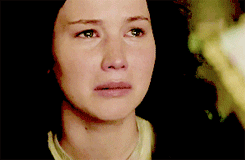 Doesn't Jen have the best cry face
Francis did a wonderful job with the symbolism of the white roses
The movie had great coordination
Francis gave us a feel of the place with the power of the lens
Lastly a self made gif :) This part was awesome
My favourite part of the movie was Jen singing. Take a listen ↑
Hope you guys liked this post!
Happy Watching!-Rida
ps. We added a new gadget to the side of our blog. It's called members and it's on the right hand side column! Go become a member now!